←
Graphic Design in Japan 2015
2015.6.20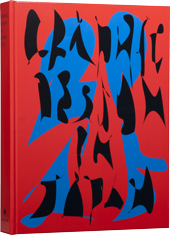 JAGDA, one of the largest design organizations in Asia, has been introducing outstanding designs in its annual Graphic Design in Japan since 1981. Every year more than 1,000 designs selected through strict selection process are introduced with a members directory by prefecture and staff credit such as copywriters and photographers. This is an unprecedented design almanac presenting the latest world-class graphic designs created by Japanese designers, which also serves as a database.
Contents
The 17th Yusaku Kamekura Design Award/JAGDA Awards 2015/JAGDA New Designer Awards 2015/Posters/General Graphics/CI, VI, Symbols, Logotypes & Typefaces/Book & Editorial Design/Package Design/Newspaper & Magazine Advertising/Ambient Design & Spatial Graphics/Interactive Design/Videos/Integrated Design
The 17th Yusaku Kamekura Design Award
The Yusaku Kamekura Design Award was established in 1999 in commemoration of the achievements of the late Yusaku Kamekura, JAGDA's first president to contribute to the development of graphic design. The award is presented each year to the work judged to be most outstanding among all entries. This year, the Award was given to Mr. Kenjiro Sano for posters for exhibition at design event "HOKUSAI_LINE". The Selection Committee praised Mr. Sano's poster for the completely new side of the designer it revealed and for its finely detailed and strangely appealing mode of expression.
JAGDA Awards 2015
The JAGDA Award was launched in 2008 in reflection of JAGDA's commitment to commend and record each year's outstanding works of graphic design – an undertaking JAGDA considers to be among its important activities. The JAGDA Awards are presented to several particularly significant works among those submitted in the Annual that garnered the most number of votes in their specific category. This year, the award was given to the following ten works: poster "The octopus likes the squid, but squid doesn't like the octopus (Hokusai Manga Inspired Exhibition)", general graphics "Sapporo International Art Festival 2014", logo "Hare", book design "Kunisaki Peninsula", package design "Pierre Hermé Paris", newspaper advertising "Driving Kids with Toyota", ambient design & spatial graphics "One-Off Design", interactive design "Merry Book Round", video "Design of Symptom", integrated design "The Art of Rice Exhibition, 21_21 DESIGN SIGHT".
JAGDA New Designer Awards 2015
The JAGDA New Designer Award was established in 1983 with the goals of calling attention to outstanding young designers. The past winners have grown to be the most active creators in the industry. As a result of the strict selection with 198 nominees, 2015 awards, the 33rd to date, were presented to Yuka Shiramoto, Ryoji Tanaka and Ryosuke Miyashita.
This One!
"This One!" is a system whereby all participants on the judging panel comment freely on one work among the year's entries that attracted their interest in particular.
Member Directory
A list of JAGDA members by prefecture is included.
Others
Prefatory Note: "Design is self-explanatory / Designer is not" by Barbora
Appendix: JAGDA Activities in Fiscal 2014
Format: 280mm x 210mm/480pages/color
Editor in chief: Kazunari Hattori
Book design: Atsuki Kikuchi