←
Graphic Design in Japan 2004
2004.6.8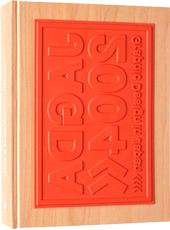 This annual presents over 1,000 designs created by Japanese graphic designers. Designs and their works are laid out by category in Japanese alphabetic order. In spite of the compact size close to B5, the annual includes large pictures with an eye-pleasing layout. Each work is presented with the purpose of production described in one simple sentence, which has been favorably received by viewers as the first of its kind in the industry. In addition to graphic designers, photographers and illustrators are indexed and a list of JAGDA members by prefecture (including e-mail addresses and URLs) is included. This is an unprecedented design annual which offers a broad range of material and serves as a database.
Contents
JAGDA New Designer Awards 2004 / Posters / General Graphics / CI, Symbols & Logotypes / Book & Editorial Design / Package Design / Newspaper Advertising / Magazine Advertising / Digital Graphics & Video Images / Signs, Display & Monuments / The 6th Yusaku Kamekura Design Award
The 6th Yusaku Kamekura Design Award
The Yusaku Kamekura Design Award was established in 1999 in commemoration of the achievements of Yusaku Kamekura, JAGDA's first president, as a way of contributing to the development of graphic design. The award is presented each year to the work judged to be most outstanding among all entries.
This year, Mr. Kazunari Hattori's editorial design of Ryuko Tsushin fashion magazine collected kudos for its modern, powerful attributes suggestive of street culture. The Juries felt Mr. Hattori's work will inspire courage in all aspiring editorial designers.
JAGDA New Designer Awards 2004
The JAGDA New Designer Award was established in 1983 with the goals of calling attention to outstanding young designers and vitalizing the realm of graphic design. The 2004 awards represent the 22nd to date. As a result of the strict selection process, Mr. Ryusuke Tanaka, Mr. Daisaku Nojiri and Ms. Chie Morimoto were selected as the award-winning designers.
Best Work
Starting this year, the work receiving the highest acclaim in each category was given a "Best Work" award. Award winners are featured on the first page of their respective categories.
This One!
"This One!" is a system whereby all participants on the judging panel comment freely on one work among the year's entries that attracted their interest in particular.
Special Feature: 2003 Icograda Congress Nagoya, Japan
In October 2003, the Icograda Congress was convened in Nagoya, attracting 3,800 delegates from 49 different countries or region. The Congress, first to be held in Asia, was planned and carried out with JAGDA serving in the central role.
Format: B5/480 pages/color
Editor in chief: Toshio Yamagata
Book design: Kazufumi Nagai
Order/inquiry: This book is no longer available for purchase