←
Graphic Design in Japan 2003
2003.5.30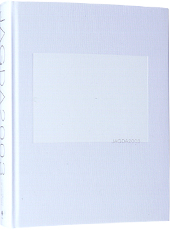 This annual presents over 1,000 designs created by Japanese graphic designers. Designs and their works are laid out by category in Japanese alphabetic order. In spite of the compact size close to B5, the annual includes large pictures with an eye-pleasing layout. Each work is presented with the purpose of production described in one simple sentence, which has been favorably received by viewers as the first of its kind in the industry. In addition to graphic designers, photographers and illustrators are indexed and a list of JAGDA members by prefecture (including e-mail addresses and URLs) is included. This is an unprecedented design annual which offers a broad range of material and serves as a database.
Contents
JAGDA New Designer Awards 2003 / Posters / General Graphics / CI, Symbols & Logotypes / Book & Editorial Design / Package Design / Newspaper Advertising / Magazine Advertising / Digital Graphics & Video Images / Signs, Display & Monuments / The 5th Yusaku Kamekura Design Award
The 5th Yusaku Kamekura Design Award
The Yusaku Kamekura Design Award was established in 1999 in commemoration of the achievements of Yusaku Kamekura, JAGDA's first president, as a way of contributing to the development of graphic design. The award is presented each year to the work judged to be most outstanding among all entries.
This year, the juries decided to confer the award on Mr. Masayoshi Nakajo's series of exhibition posters: Mount Fuji: The Incurable Malady of Masayoshi Nakajo. One jury called the posters "strangely mysterious" and said that, though unsure whether that was good or bad, they constituted a means of expression unique throughout the world. Another judge commented that the posters reminded him of Italian Futurismo or Russian Avant-Garde, but that as a form of expression they are altogether new.
JAGDA New Designer Awards 2003
The JAGDA New Designer Award was established in 1983 with the goals of calling attention to outstanding young designers and vitalizing the realm of graphic design. The 2003 awards represent the 21st to date. As a result of the strict selection process, Mr. Masahiro Kakinokihara, Mr. Noriaki Hayashi and Mr. Manabu Mizuno were selected as the award-winning designers.
This One!
"This One!" is a system whereby all participants on the judging panel comment freely on one work among the year's entries that attracted their interest in particular.
Format: B5/482 pages/color
Editor in chief: Toshio Yamagata
Book design: Eiki Hidaka
Order/inquiry: This book is no longer available for purchase