←
Graphic Design in Japan 2020(en)
2020.8.31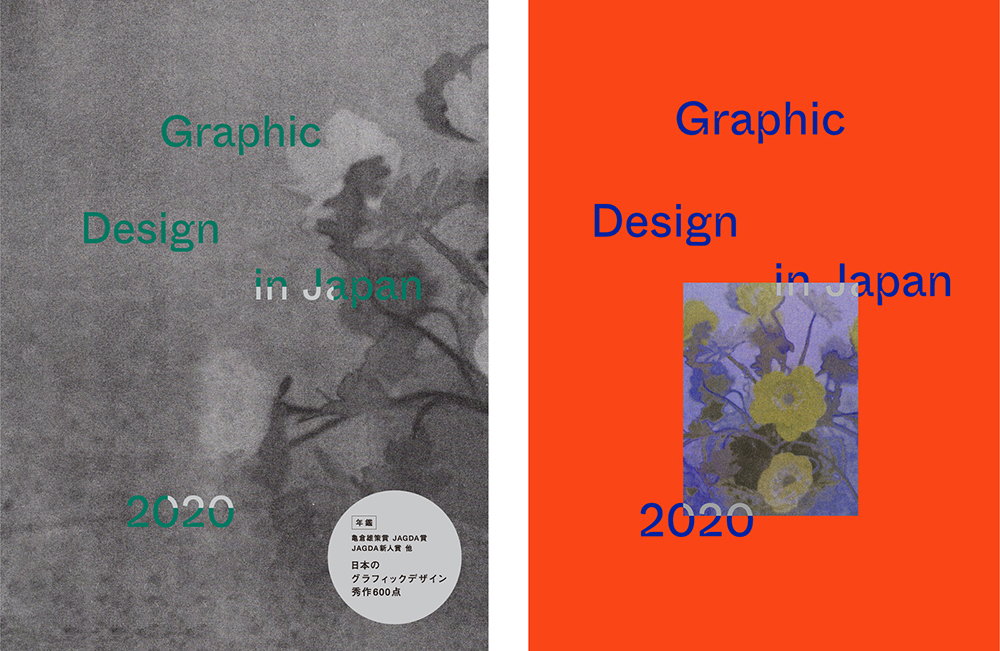 JAGDA, one of the largest design organizations in Asia, has been introducing outstanding designs in its annual Graphic Design in Japan since 1981. Every year more than 1,000 designs, selected through strict selection process, are introduced with staff credit such as copywriters and photographers, and the organisation's member directory by prefecture. This is an unprecedented design almanac presenting the latest world-class graphic designs created by Japanese designers, which also serves as a database.
[Contents]
The 22nd Yusaku Kamekura Design Award/JAGDA Awards 2020/JAGDA New Designer Awards 2020/Posters/General Graphics/CI, VI, Symbols, Logotypes & Typefaces/Book & Editorial Design/Package Design/Newspaper & Magazine Advertising/Ambient Design & Spatial Graphics/Interactive Design/Videos/Integrated Design
[The 22nd Yusaku Kamekura Design Award]
The Yusaku Kamekura Design Award was established in 1999 in commemoration of the achievements of the late Yusaku Kamekura, JAGDA's first president to contribute to the development of graphic design. The award is presented each year to the work judged to be most outstanding among all entries. This year, the Award was given to Mr. Atsuki Kikuchi for book design of ceramic artist's exhibition catalogue "Primitive and Graceful: The Ceramic Artistry of Shoji Kamoda."
[JAGDA Awards 2020]
The JAGDA Award was launched in 2008 in reflection of JAGDA's commitment to commend and record each year's outstanding works of graphic design – an undertaking JAGDA considers to be among its important activities. The JAGDA Awards are presented to several particularly significant works among those submitted in the Annual that garnered the most number of votes in their specific category. This year, the award was given to the following ten works: poster "Hiroshima Appeals 2019", general graphics "the exhibition 'Where We Now Stand'", Logotype "Nishikawa", book design "Primitive and Graceful", package design "Shiseido Parlour 2019", magazine advertising "Muji Campgrounds 2019", ambient design & spatial graphics "Flowering in the Air", interactive design "Mitsui Main Building 1929–2019", video "Schoolyard", and integrated design "Issey Miyake Semba."
[JAGDA New Designer Awards 2020]
The JAGDA New Designer Award was established in 1983 with the goals of calling attention to outstanding young designers. The past winners have grown to be the most active creators in the industry. As a result of the strict selection with 145 nominees, 2020 awards, the 38th to date, were presented to Shun Sasaki, Seri Tanaka, and Tomomi Nishikawa.
[This One!]
"This One!" is a system whereby each jury comments freely on one work among the year's entries that attracted one's interest in particular.
[Member Directory]
A list of JAGDA members by prefecture is included.
[Others]
Round-table Talk and Comments from Juries
In Memorium: Mitsuo Katsui
JAGDA Student Grand Prix 2019 Winning Works
Appendix: JAGDA Activities in Fiscal 2019
Published: 20 July 2020
Format: 280mm x 210mm | 484 pages | color
Editor in chief: Masahiro Kakinokihara
Book design: Eriko Kawakami
Juries:
Katsunori Aoki, Katsumi Asaba, Rika Eguchi, Osamu Fukushima, Kenya Hara, Kazunari Hattori, Keiko Hirano, Tsuguya Inoue, Yoshiaki Irobe, Koji Iyama, Masahiro  Kakinokihara, Kaoru Kasai, Atsuki Kikuchi, Ryohei "wabi" Kudo, Shin Matsunaga, Ken Miki, Manabu Mizuno, Hiroaki Nagai, Kazufumi Nagai, Masayoshi Nakajo, Norio Nakamura, Hitomi Sago, Taku Satoh, Katsuhiko Shibuya, Norito Shinmura, Yui Takada, Ryosuke Uehara, Yoshie Watanabe (28 in total)
Price:
Non-members 16,500 JPY (with tax / without shipping fee)
Members and Friends 13,750 JPY (with tax / without shipping fee)