←
Packaging Tohoku Products – Deliciously Delightful 2014
2015.3.19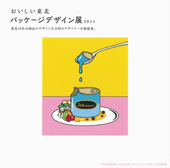 Concept
Tohoku abounds in fascinating local resources based on its rich culture and history along with high technology and quality products, but these admirable aspects are not yet fully appreciated outside of Tohoku.
Tohoku Bureau of Economy, Trade and Industry and Japan Graphic Designers Association called for new package ideas for 10 products of 10 unique Tohoku companies, in an attempt to commercialize some of them to promote the strengths and charms of Tohoku region through the power of design.
The exhibition showcased select 270 works out of 623 entries by designers all over Japan. Please enjoy the wide variety of package designs which explore and enhance the charm and value of Tohoku products.
Contents
Selected and awarded works (270 works) / Outline of 10 products and manufacturers / Comments by awarded designers / Juries' comment
Exhibition Tour
2014
28 Nov – 1 Dec at Tokyo Electron Hall Miyagi, Sendai
2015
6 – 29 Mar at Tokyo Midtown Design Hub, Tokyo
Issued on 19 March 2015
Size: 210mm x 210mm/76pages/color
Published by Tohoku Bureau of Economy, Trade and Industry
Edited by JAGDA, FMS Laboratory Inc.
Design: Osamu Fukushima, Yosuke Furukawa
Cover Visual: Ayato Suzuki
Price: not for sale