←
DESIGN Two Eras [60s vs 00s]: Japan Design Museum Project
2011.9.29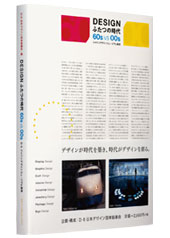 The Council of the Design Association of Japan (D-8), a collective entity of 8 design associations under supervisory of METI, held an exhibition titled "DESIGN Two Eras [60s vs 00s]: Japan Design Museum Project" and related events to promote its goal of establishing Japan's first comprehensive design museum. To coinside with the exhibition, D-8 published an unprecedented book edited by unique perspectives. It offers insightful suggestions to examine the history and future design by introducing selected works from 8 disciplines in two eras – 1960s and 2000s.
Contributors: Kouichi Kabayama (Director, Printing Museum, Tokyo), Hiroshi Kashiwagi (Professor, Musashino Art University), Yuko Hashimoto (Curator, Utsunomiya Museum of Art), Tsuneo Ko (DDA), Mitsuo Katsui (JAGDA), Shigetaka Aikawa (JCDA), Tadao Shimizu (JID), Takashi Asaka (JIDA), Tomoyuki Suganuma (JJDA), Shuya Kaneko (JPDA), Isao Miyazawa (SDA), and others.
Book design: Ikuo Amano, Katsuhiro Kinoshita (JAGDA)
Publication: DNP Art Communications
Project team: The Council of the Design Association of Japan (D-8)
[Affiliated body]
– Japan Display Design Association (DDA)
– Japan Graphic Designers Association Inc. (JAGDA)
– Japan Craft Design Association (JCDA)
– Japan Interior Designers Association (JID)
– Japan Industrial Designers Association (JIDA)
– Japan Jewelry Designers Association (JJDA)
– Japan Package Designers Association (JPDA)
– Japan Sign Design Association (SDA)
Published: 29th September, 2011
Size: B5 (H245mm × W182mm)/160 pages (144 color/16 black-and-white)
Special Price: 2,400 Yen (tax included)
*Special price is offered at JAGDA Online Shop.
Stock limited.
*Regular price is 2,624 Yen.
Order/inquiry:
JAGDA ONLINE SHOP
Order/inquiry:
JAGDA Secretariat
Tel 03-5770-7509
jagda@jagda.or.jp