←
Graphic Design in Japan 2017
2017.6.23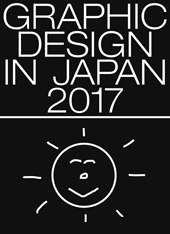 Contents
The 19th Yusaku Kamekura Design Award | JAGDA Awards 2017 | JAGDA New Designer Awards 2017 | Posters/General Graphics | CI, VI, Symbols, Logotypes & Typefaces | Book & Editorial Design | Package Design | Newspaper & Magazine Advertising | Ambient Design & Spatial Graphics | Interactive Design | Videos | Integrated Design
The 19th Yusaku Kamekura Design Award
The Yusaku Kamekura Design Award was established in 1999 in commemoration of the achievements of the late Yusaku Kamekura, JAGDA's first president to contribute to the development of graphic design. The award is presented each year to the work judged to be most outstanding among all entries. This year, the Award was given to Ms. Yoshie Watanabe for package design of confectionery brand AUDREY. At the judging sessions, Ms. Watanabe received high acclaim for how, in recent years, she has evolved from her former highly "personal" way of design expression to design that is symbolic of the times, and how she impressively used white space, especially with lettering, which evoked the brand's worldview all the more.
JAGDA Awards 2017
The JAGDA Award was launched in 2008 in reflection of JAGDA's commitment to commend and record each year's outstanding works of graphic design – an undertaking JAGDA considers to be among its important activities. The JAGDA Awards are presented to several particularly significant works among those submitted in the Annual that garnered the most number of votes in their specific category. This year, the award was given to the following ten works: poster "Nudist", general graphics "Line of Life Project", CI "Pola", book design "Ordeal by Roses", package design "Audrey", newspaper advertising "Takarajimasha", ambient design & spatial graphics "mt ex", interactive design "Thomas Ruff Exhibition", video "Peach John", integrated design "Toraya Café • An Stand".
JAGDA New Designer Awards 2017
The JAGDA New Designer Award was established in 1983 with the goals of calling attention to outstanding young designers. The past winners have grown to be the most active creators in the industry. As a result of the strict selection with 145 nominees, 2017 awards, the 35th to date, were presented to Haruka Misawa, Yoshihiro Yagi, and Taichi Tamaki.
This One!
"This One!" is a system whereby each jury comments freely on one work among the year's entries that attracted one's interest in particular.
Member Directory
A list of JAGDA members by prefecture is included.
Others
Prefatory Note: "Collecting 'Flags'" by Hiroshi Homura (poet)
Special Feature: "My Best Logo": self-selected by 796 JAGDA Members
JAGDA Student Grand Prix 2016 Winning Works
Appendix: JAGDA Activities in Fiscal 2016
Format: 280mm x 210mm | 496 pages | color
Editor in chief: Noriaki Hayashi
Book design: Yui Takada
Order/inquiry: This book is no longer available for purchase