←
Graphic Design in Japan 2010
2011.6.21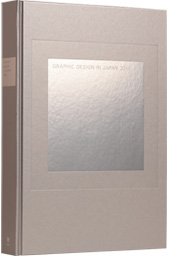 JAGDA, the largest design organization in Asia, has introduced outstanding designs in the Graphic Design in Japan annual every year since 1981. These designs, selected through a strict selection process, are introduced with a large number of pictures and are recommended with confidence. Over 1,000 designs are categorized and presented with the purpose of production for each work. Designers and their works are laid out in Japanese alphabetic order. In addition, a list of JAGDA members by prefecture (including e-mail addresses and URLs) and indexes of copywriters and photographers are included. This is an unprecedented design almanac, a collection of world-class graphic designs created by Japanese designers, which also serves as a database.
Contents
The 12th Yusaku Kamekura Design Award / JAGDA Awards 2010 / JAGDA New Designer Awards 2010 / Posters / General Graphics / CI, VI, Symbols, Logotypes & Typefaces / Book & Editorial Design / Package Design / Newspaper & Magazine Advertising / Interactive Design & Motion Graphics / Ambient Design & Spatial Graphics
The 12th Yusaku Kamekura Design Award
The Yusaku Kamekura Design Award was established in 1999 in commemoration of the achievements of Yusaku Kamekura, JAGDA's first president, as a way of contributing to the development of graphic design. The award is presented each year to the work judged to be most outstanding among all entries. This year, the Award was given to Mr. Katsumi Asaba for posters "Misawa Design 2009 BAUHAUS" portraying design philosophy of home builder. The posters depict the design philosophy of Misawa Homes, and theme and power of execution were deemed worthy of the award.
JAGDA Awards 2010
Starting in 2008, the JAGDA Awards were launched in reflection of JAGDA's commitment to commend and record each year's outstanding works of graphic design – an undertaking JAGDA considers to be among its important activities. The JAGDA Awards are presented to several particularly significant works among those submitted for entry in the Annual that garnered the most number of votes in their specific category. This year, the Award was given to the following five works: "Nakajo Hattori Haccho-me Shinju 'Dokuro'", "HOTEL BUTTERFLY", "SHISEIDO", "Asaba Katsumi Nikki", and"PASS THE BATON"
JAGDA New Designer Awards 2010
The JAGDA New Designer Awards were established in 1983 with the goals of calling attention to outstanding young designers and vitalizing the realm of graphic design. Winners are selected each year from among all entrants who have not reached their 40th birthday as of the end of October of the judging year. The 2010 awards represent the 28th to date. As a result of the strict selection process with 32 nominees, Shogo Kishino, Rikako Nagashima and Hideto Yagi were selected as the award-winning designers.
This One!
"This One!" is a system whereby all participants on the judging panel comment freely on one work among the year's entries that attracted their interest in particular.
Member Directory
A list of JAGDA members by prefecture (including e-mail addresses and URLs) is included.
Format: A4/472 pages/color
Editor in chief: Hiroaki Nagai
Book design: Kazuya Kondo