←
VISUALOGUE: the Book
2006.6.1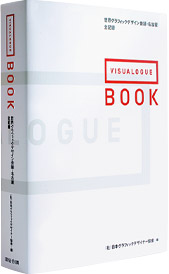 This book includes the contents of 40 sessions given by 90 Japanese and overseas speakers at the 2003 Icograda Congress Nagoya, Japan, held in October 2003, together with many pictures. It offers a valuable background of knowledge for future communication design. By keeping this book close at hand and reading it in a timely manner as needed, the quality of your design endeavors will naturally improve over time.
2003 Icograda Congress Nagoya, Japan:
The 2003 Icograda Congress Nagoya, Japan was held in October 2003 in conjunction with the 20th general assembly of the International Council of Graphic Design Association (Icograda). JAGDA took charge of planning and organizing the conference. It was the largest scale conference in Japan's design history since the World Design Conference held in 1960. As many as 3,800 people from 49 countries participated in the conference under the theme of the "Quality of Information".
Contents:
Keynote address: A Conversation about conversation (Richard Saul Wurman)
Panel discussion: What are the qualities of information? (Richard Saul Wurman, Katherine McCoy, Keiko Hirano, Kenya Hara, Andreas Schneider)
Special lecture: Entertainment design (Eiko Ishioka)
Can graphic design touch hearts? (Stefan Sagmeister)
Matter, non-matter and non-hierarchy (Kengo Kuma, Kazuyo Sejima)
Tearing up the plans (Neville Brody)
Japan's poster design (Christopher Mount, Kazumasa Nagai, Tadanori Yokoo, Masuteru Aoba)
Earth-shattering graphic design (Makoto Saito)
Exhibition design: its future and power of expression (Massimo Pitis)
Network aesthetics (Kari-Hans Kommonen, Mariko Sakai, Shin Mizukoshi)
Art, media and information (Yuko Hasegawa, Noriyuki Tanaka)
Creative activity and intellectual property: The case of international design protection (Cecile Barrio, Hiroyuki Ito, Hiroshi Okutomi)
Special lecture: The man-machine interfaces of musical instruments (Dr. Robert Moog)
Interactive design that manipulates the senses (Dr. Robert Moog, Ichiro Higashiizumi, Taku Satoh, Tom Vincent)
Mass-production of understanding (Takuya Onuki)
Creating a method of creating (Masahiko Sato)
What should we do now? (John Maeda)
Life and design (Osamu Sakura, Toshiharu Itoh)
Life-sized design and its responsibilities 1 (Gerd Baumann, Barbara Baumann)
Life-sized design and its responsibilities 2 (Shin Matsunaga)
A new form of classification: "House styles (visual identities)" in Netherlands (Armand Mevis)
The Possibilities of art direction (Katsunori Aoki, Kashiwa Sato)
The new interface initiated by designers (Bill Buxton, Anirudha Joshi, Steve Kaneko, Takehiko Katsuo)
Humor: The heat and the beat (Seigow Matsuoka)
The tradition of humor and 'freshness' considering traditional Japanese culture (Koen Yanagiya, Seigow Matsuoka)
Humour, joy, and laughter (Seymour Chwast, Shigeo Fukuda, Omar Vulpinari)
Kawaii (Tatsuhiko Akashi, Nagi Noda, Gento Matsumoto)
What lurks between ? and ! (Seiko Ito, Naohiro Ukawa)
IT VISUALOGUE 1: Design dissolving in behavior (Naoto Fukasawa)
IT VISUALOGUE 2: Parallel reality (Masaki Fujihata, Takemochi Ishii, Haruomi Hosono)
Commemorative speech: Drumming the cosmos – design + cosmology (Kouhei Sugiura)
AsiaBeat: A clash of signs and symbols (Siam Attariya, Praseuth Banchongphakdy, William Harald-Wong, Kang Tai-Keung, Pham Huyen Kieu, Freeman Lau, Lee Se-Young, Apex Lin, Irvan Noe'man, Sudhir Sharma, Theresa Yong)
The future of Asian scripts (R.K. Joshi, Esther Liu)
The essence and development of writing systems: From petroglyphs to scripts (Tatsuo Nishida, Katsumi Asaba)
Charging China and its identity (Hang Jian, Shao Longtu, Guo Chenghui, Zhang Xiao Ping, Wang Chao Ying, Motoo Nakanishi)
Meaningful design in the age of globalization (Jonathan Barnbrook, Shigeo Goto)
Sustainability in the context of branding and globalization (Amrik Kalsi, Karen Blincoe)
The past we need to leave behind, the legacy we must own, and the future (Karen Blincoe, Mitsuo Katsui, Thomas Ockerse, Kirti Trivedi, Ahn Sang-Soo)
The challenges of Korea's Haja Center (Cho Hae-joang, Kim Nam-i)
Summary panel discussion: Quality of information (Shutaro Mukai, Toshiharu Itoh)
Size: B5/624 pages/color
Book design: Kan Akita
Member/friend/student price:
5,300 yen
Non-member price: 7,500 yen
Order/inquiry:
Member/friend/student:
JAGDA Secretariat
Tel 03-5770-7509
jagda@jagda.or.jp
Non-member:
Sendenkaigi Co.,Ltd.
http://www.sendenkaigi.com/
hanbai@sendenkaigi.co.jp