←
Hiroshima Appeals 2017
2017.8.6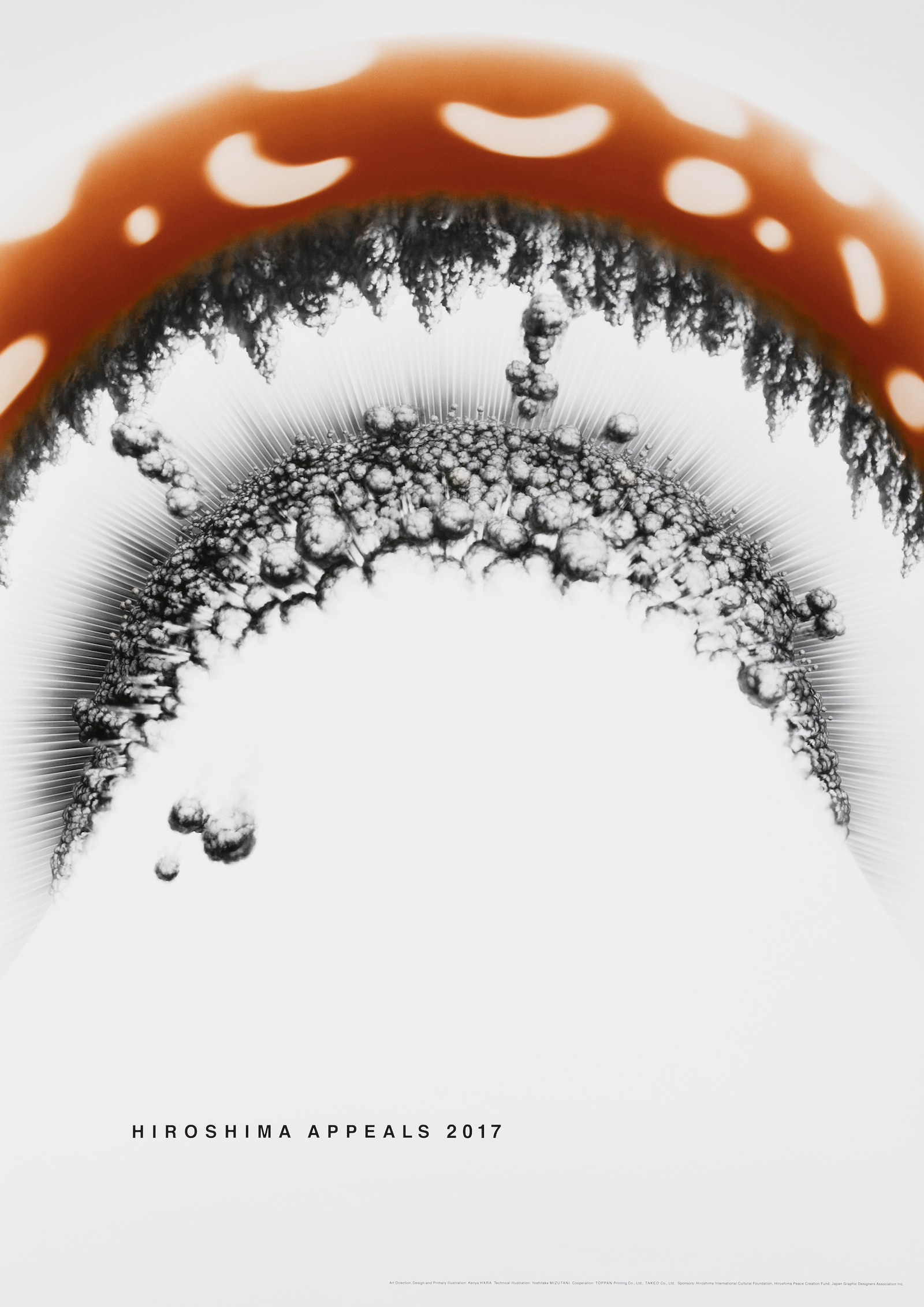 Comment from Designer
This is an illustration drawn from the perspective of looking up from below a mushroom cloud. The embodiment of the worst evil in human history explodes just overhead of the people of Hiroshima and of Japan. I wanted to look straight into that moment. Posters have the ability to freeze fading reality and emotion for eternity. Hiroshima Appeals expressed as posters are meaningful because they are still images. They are like creating prayers. When I thought about the people who died in the atomic bombing, various depictions didn't work, but when I focused on the awareness that there are towns where nuclear weapons exploded overhead, I felt that could lead to prayer.
I am filled with despair with the reality that nuclear weapons are being stockpiled in quantities that can destroy the Earth several times over while being called "deterrence." The human race is not as wise as we think. It is depressingly stupid that mankind can destroy the foundations of civilization to prioritize "self," "country," and "creed." Our existence may be far more short-lived than other creatures that live in respect of nature's bonds.
I have been doing realistic illustrations in collaboration with Yoshitaka Mizutani, whom I have known for 30 years. I create the original drawing and then he finishes it with his own detailed technique. It is a collaboration where he creates a detailed visualization of the images that are in my head. The original drawing depicted the entire mushroom cap, but we cropped it for the final version. I went one step further and stepped into the explosion.
Hiroshima Appeals Poster Campaign
In 1983, the Japan Graphic Designers Association Inc. (JAGDA) and the Hiroshima International Cultural Foundation announced their collaboration on a project focusing on the theme "Hiroshima's Spirit" and launched a poster campaign with the goal of promoting peace at home and abroad. The first poster, entitled "Burning Butterflies", was created by Yusaku Kamekura, the president of JAGDA at the time. Designers affiliated with JAGDA produce one poster each year.
The posters are sold to the general public and exhibited in a nationwide tour called the "Peace Poster Exhibition". Posters in the series have engaged citizens around the world, displayed in the Atomic Bomb Exhibition preceding to the historic 1985 Geneva Summit, and the exhibition entitled "Hiroshima: A Message for Peace among People" held in Barcelona and Valencia in Spain, and Aosta in Italy in 1997. The 2008 poster was sent to several member cities whose mayors are members of the international group Mayors for Peace. The "Hiroshima Appeals" project, conducted annually from 1983 till 1991, was reinstated in 2005 to commemorate the 60th anniversary of the end of World War II.
Designers: 1983 Yusaku Kamekura; 1984 Kiyoshi Awazu; 1985 Shigeo Fukuda; 1986 Yoshio Hayakawa; 1987 Kazumasa Nagai; 1988 Ikko Tanaka; 1989 Mitsuo Katsui; 1990 Eiko Ishioka; 2005 Masayoshi Nakajo; 2006 Koichi Sato; 2007 Shin Matsunaga; 2008 Masuteru Aoba; 2009 Katsumi Asaba; 2010 Keisuke Nagatomo; 2011 Susumu Endo; 2012 Yukimasa Okumura; 2013 Kaoru Kasai; 2014 Tsuguya Inoue; 2015 Taku Satoh; 2016 Takahisa Kamijyo; 2017 Kenya Hara