←
Hiroshima Appeals 2016
2016.8.6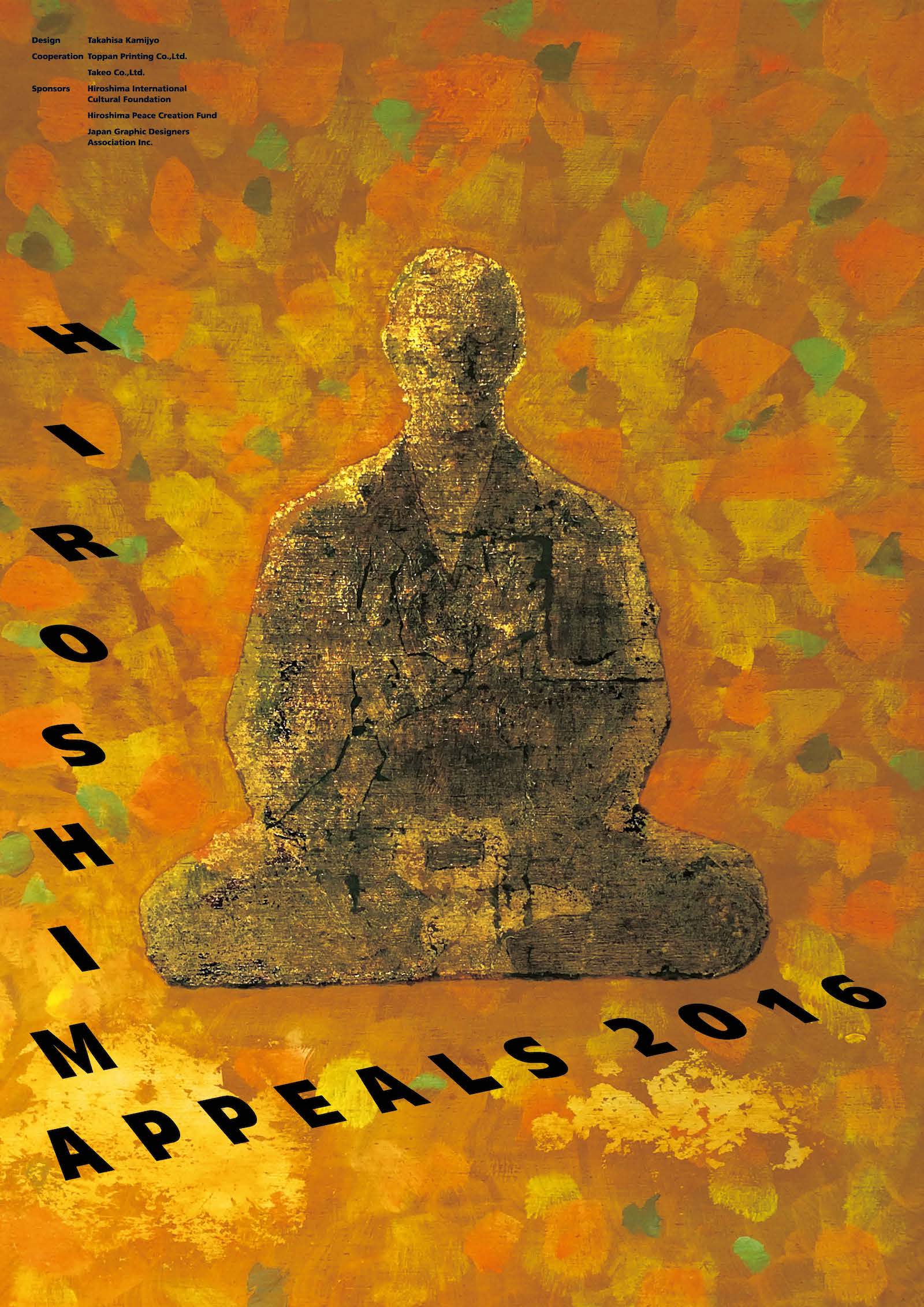 Comment from Designer
The first visit to Hiroshima by a sitting United States President was realized by President Barack Obama in May 2016. In his speech President Obama spoke unequivocally of his desire to "eliminate nuclear weapons." That event could be described as a remarkable achievement that was a first in the 71 years since the end of World War II.
At that time, I had begun working on the Hiroshima Appeals peace poster and had been striving to express the tragedy of atomic bombs symbolically. However, the mindset I had had up to then underwent a major change when I witnessed the efforts of the people of Hiroshima that formed the backdrop to President Obama's visit, and their hopes for peace. Rather than adopting a confrontational axis of stating a complaint and evoking an apology, this work is an expression centered on a desire for a deep, still and powerful peace, in the form of forgiveness, reconciliation and joint prayer.
My constant wish is that works of graphic design will become part of the landscape in cities and lifestyles. I think it would be ideal, in other words, if my inner feelings were accepted and existed as a landscape.
For the Hiroshima Appeals 2016, I gave form to my powerful aspirations and wishes for peace. My prayers have been given form. If empathy is generated as a result of that I am sure it will become a powerful message. My hope is that it will create a landscape of prayer.
Hiroshima Appeals Poster Campaign
In 1983, the Japan Graphic Designers Association Inc. (JAGDA) and the Hiroshima International Cultural Foundation announced their collaboration on a project focusing on the theme "Hiroshima's Spirit" and launched a poster campaign with the goal of promoting peace at home and abroad. The first poster, entitled "Burning Butterflies", was created by Yusaku Kamekura, the president of JAGDA at the time. Designers affiliated with JAGDA produce one poster each year.
The posters are sold to the general public and exhibited in a nationwide tour called the "Peace Poster Exhibition". Posters in the series have engaged citizens around the world, displayed in the Atomic Bomb Exhibition preceding to the historic 1985 Geneva Summit, and the exhibition entitled "Hiroshima: A Message for Peace among People" held in Barcelona and Valencia in Spain, and Aosta in Italy in 1997. The 2008 poster was sent to several member cities whose mayors are members of the international group Mayors for Peace. The "Hiroshima Appeals" project, conducted annually from 1983 till 1991, was reinstated in 2005 to commemorate the 60th anniversary of the end of World War II.
Designers: 1983 Yusaku Kamekura; 1984 Kiyoshi Awazu; 1985 Shigeo Fukuda; 1986 Yoshio Hayakawa; 1987 Kazumasa Nagai; 1988 Ikko Tanaka; 1989 Mitsuo Katsui; 1990 Eiko Ishioka; 2005 Masayoshi Nakajo; 2006 Koichi Sato; 2007 Shin Matsunaga; 2008 Masuteru Aoba; 2009 Katsumi Asaba; 2010 Keisuke Nagatomo; 2011 Susumu Endo; 2012 Yukimasa Okumura; 2013 Kaoru Kasai; 2014 Tsuguya Inoue; 2015 Taku Satoh; 2016 Takahisa Kamijyo