←
Hiroshima Appeals 2014
2014.8.6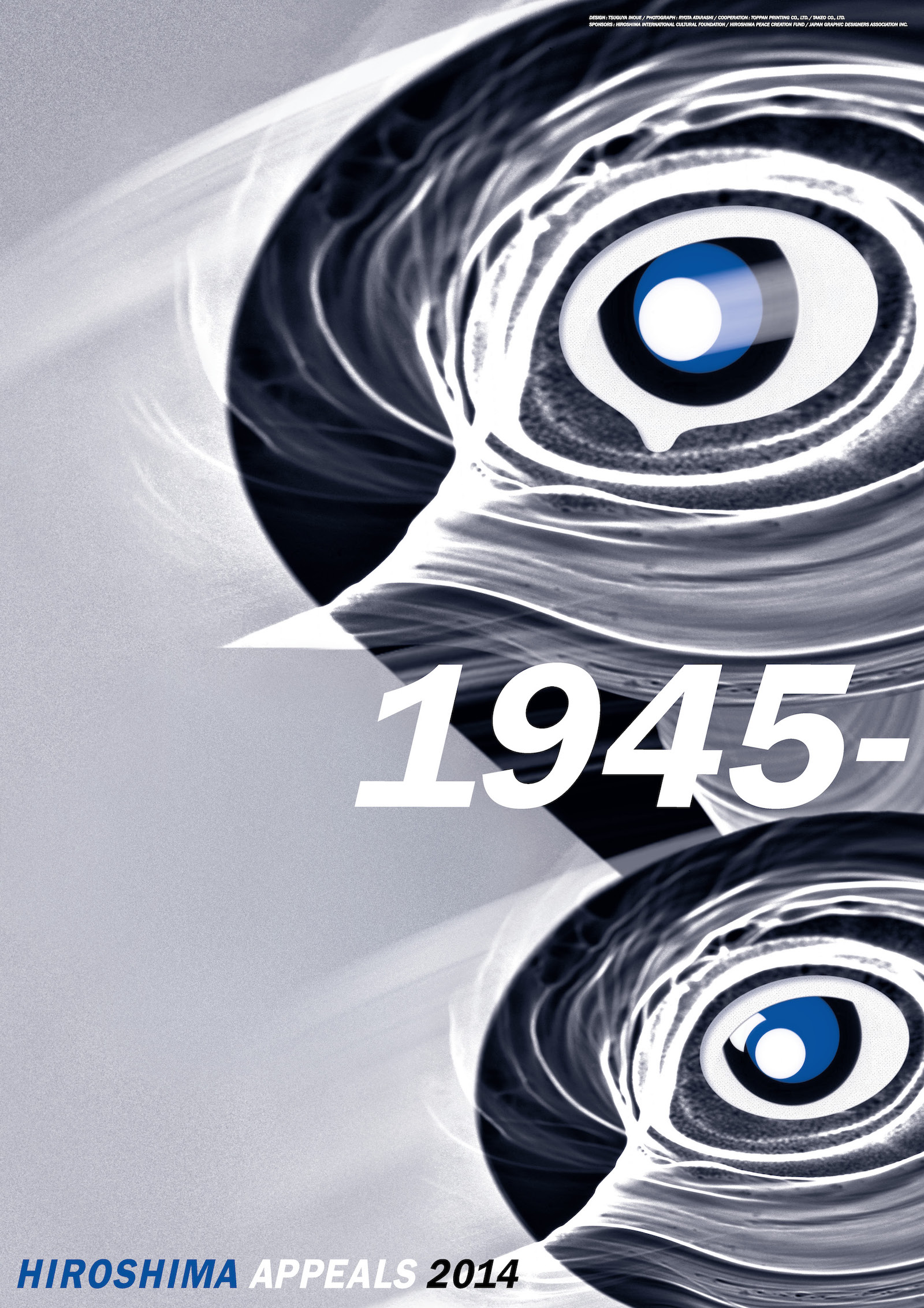 Comment from Designer
Many years ago, I picked up a photobook of atomic bomb disaster titled "Hiroshima," and the photo caption for the smiling children grabbed my heart. It read, "Atom-bombed children say that from now on, they want to live merrily like little birds. But these little birds are extremely self-conscious about the a-bomb scars on their bodies." Born after the war, we build up our knowledge of the atomic holocaust with fragments of information, as memory that fades in distance with time. But as we learn more about the radiation exposure through photos, films and books, the act of instant killing breaks our heart and reminds us of the terror of nuclear explosion. There is a danger in shutting the door on the past, even though it might let us enjoy our present life. Keeping the 1945 disaster in mind, I hope for the realization of the nuclear-free society, without relying on "nuclear umbrella" deterrence, no matter how long and tough the road is. While designing this poster, I tried to listen to the voices of those killed by man-made explosives and my inner voice saying that "all life desires to survive." The living creatures in this poster were gradually formed, expressing time and memory, with photos of sunlight and shadow taken in a clear day by Ryota Atarashi. These two generations of creatures lament the fading of the memories of war, and with strong anti-nuclear sentiment, urge us to pass on the "memory of 1945" to the next generation.
Hiroshima Appeals Poster Campaign
In 1983, the Japan Graphic Designers Association Inc. (JAGDA) and the Hiroshima International Cultural Foundation announced their collaboration on a project focusing on the theme "Hiroshima's Spirit" and launched a poster campaign with the goal of promoting peace at home and abroad. The first poster, entitled "Burning Butterflies", was created by Yusaku Kamekura, the president of JAGDA at the time. Designers affiliated with JAGDA produce one poster each year.
The posters are sold to the general public and exhibited in a nationwide tour called the "Peace Poster Exhibition". Posters in the series have engaged citizens around the world, displayed in the Atomic Bomb Exhibition preceding to the historic 1985 Geneva Summit, and the exhibition entitled "Hiroshima: A Message for Peace among People" held in Barcelona and Valencia in Spain, and Aosta in Italy in 1997. The 2008 poster was sent to several member cities whose mayors are members of the international group Mayors for Peace. The "Hiroshima Appeals" project, conducted annually from 1983 till 1991, was reinstated in 2005 to commemorate the 60th anniversary of the end of World War II.
Designers: 1983 Yusaku Kamekura; 1984 Kiyoshi Awazu; 1985 Shigeo Fukuda; 1986 Yoshio Hayakawa; 1987 Kazumasa Nagai; 1988 Ikko Tanaka; 1989 Mitsuo Katsui; 1990 Eiko Ishioka; 2005 Masayoshi Nakajo; 2006 Koichi Sato; 2007 Shin Matsunaga; 2008 Masuteru Aoba; 2009 Katsumi Asaba; 2010 Keisuke Nagatomo; 2011 Susumu Endo; 2012 Yukimasa Okumura; 2013 Kaoru Kasai; 2014 Tsuguya Inoue