←
Hiroshima Appeals 2009
2009.8.6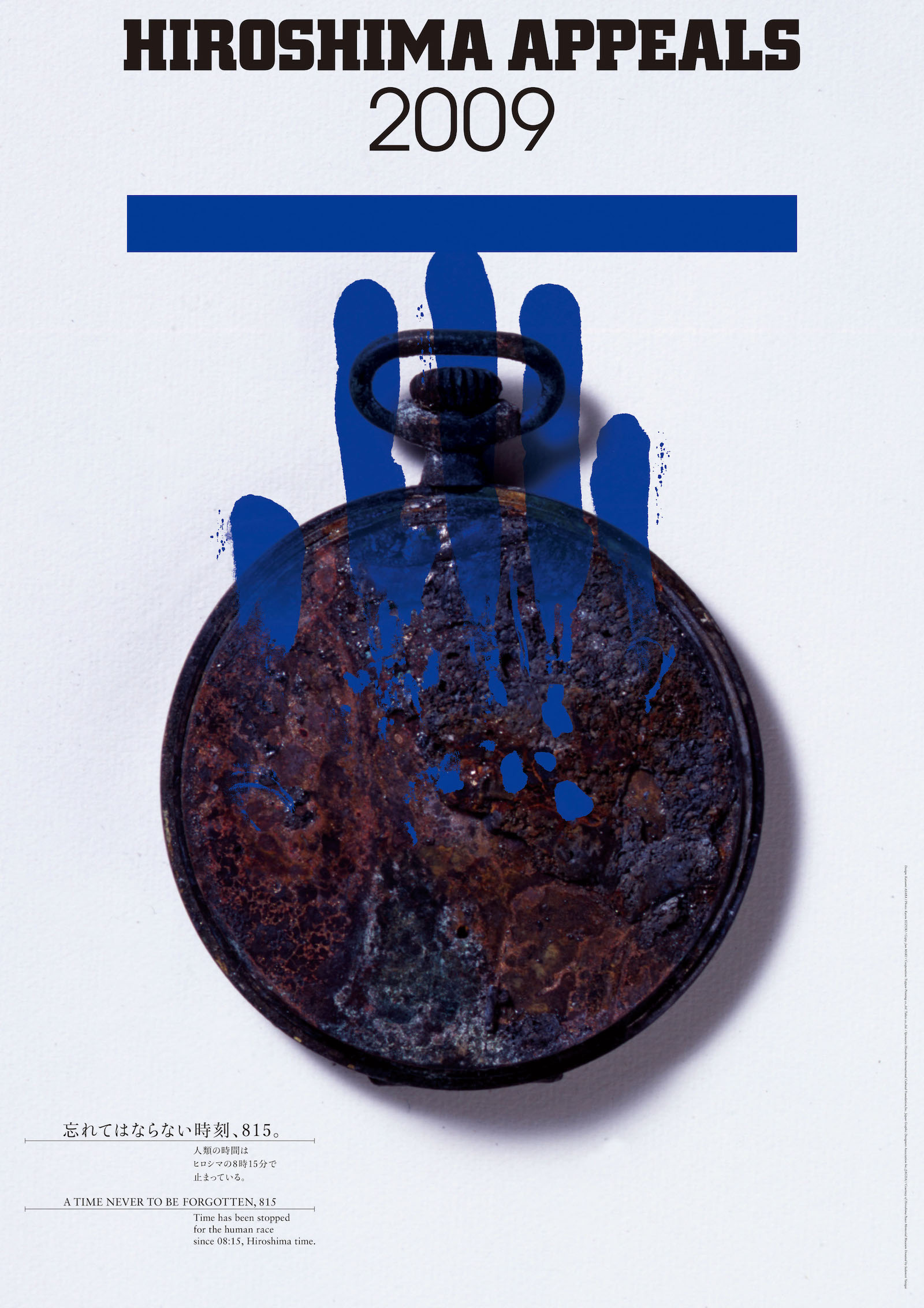 Comment from Designer
The pocket watch was ticking away faithfully, keeping good time even on that day. It was a bright and sunny morning. The hands of the clock read after 8 o'clock. At 8:15 on the morning of August 6, 1945, the sky over Hiroshima burst into bright red light, the flash sending flying everything in its path. Sixty-five long years have elapsed since that day. Nuclear arms have continued to proliferate and the world has more nuclear powers than ever. In July this year, designer Issey Miyake contributed a courageous piece to the editorial pages of the New York Times. In that article, Miyake appealed to President Obama to attend the Peace Memorial Ceremony on August 6 and expressed a fervent wish that the American president would accept his invitation. Issey Miyake was seven years old when the atomic bomb was dropped on Hiroshima and as a survivor of that bombing his voice carries an unprecedented power. With the US and Russia now calling for the elimination of nuclear weapons, 2009 promises to be a momentous year in the movement for universal peace.
Hiroshima Appeals Poster Campaign
In 1983, the Japan Graphic Designers Association Inc. (JAGDA) and the Hiroshima International Cultural Foundation announced their collaboration on a project focusing on the theme "Hiroshima's Spirit" and launched a poster campaign with the goal of promoting peace at home and abroad. The first poster, entitled "Burning Butterflies", was created by Yusaku Kamekura, the president of JAGDA at the time. Designers affiliated with JAGDA produce one poster each year.
The posters are sold to the general public and exhibited in a nationwide tour called the "Peace Poster Exhibition". Posters in the series have engaged citizens around the world, displayed in the Atomic Bomb Exhibition preceding to the historic 1985 Geneva Summit, and the exhibition entitled "Hiroshima: A Message for Peace among People" held in Barcelona and Valencia in Spain, and Aosta in Italy in 1997. The 2008 poster was sent to several member cities whose mayors are members of the international group Mayors for Peace. The "Hiroshima Appeals" project, conducted annually from 1983 till 1991, was reinstated in 2005 to commemorate the 60th anniversary of the end of World War II.
Designers: 1983 Yusaku Kamekura; 1984 Kiyoshi Awazu; 1985 Shigeo Fukuda; 1986 Yoshio Hayakawa; 1987 Kazumasa Nagai; 1988 Ikko Tanaka; 1989 Mitsuo Katsui; 1990 Eiko Ishioka; 2005 Masayoshi Nakajo; 2006 Koichi Sato; 2007 Shin Matsunaga; 2008 Masuteru Aoba; 2009 Katsumi Asaba