←
Hiroshima Appeals 2005
2005.8.6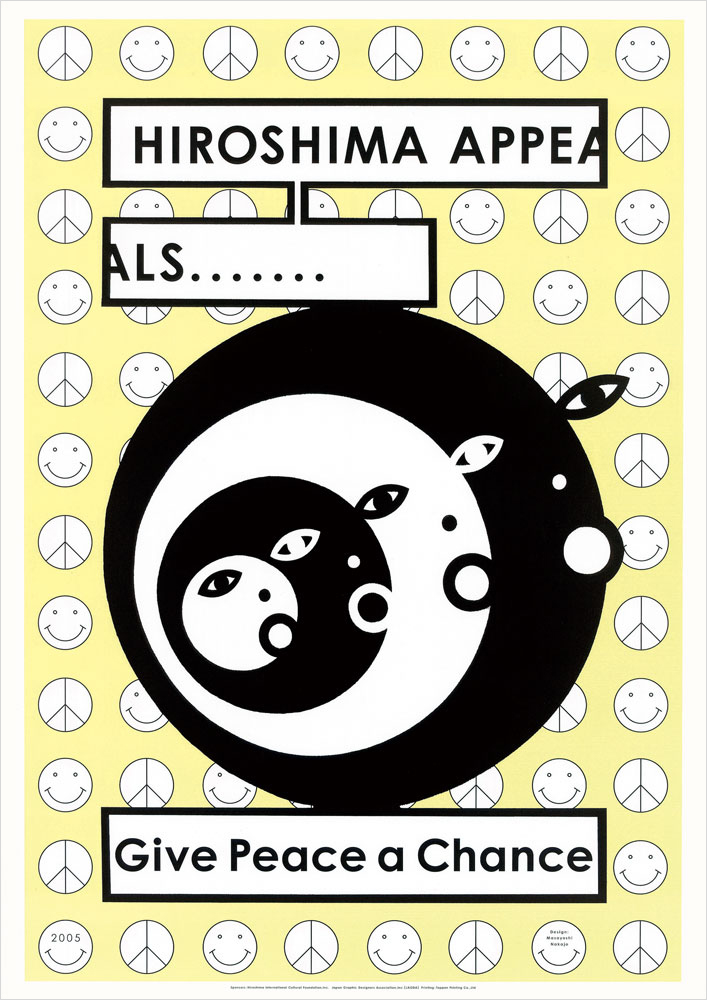 Comment from Designer
Though just a child, the headline in the morning newspaper: "New Type of Bomb…" sixty years ago, left an indelible impression on my innocent sensibility. During the massed air raids over Tokyo of March that year, I had seen the sky turn red from Chiba, the place I'd been evacuated to. Many family members and friends were lost in that blitz. The cycle of war has continued unbroken since that time. Attempts to negate this with the phrase "the horror of war" leave me feeling hollow and empty. One of my peers survived the bombing of Hiroshima. We became friends as fellow designers. Still suffering the after-effects of the bombing, in 1985, this man began work on a series of one hundred posters calling for peace: "The devastation remains fresh in my mind. I want to think about peace and love not in the immediate context of those images but within a visual framework that goes beyond it." He died at the age of 59 having failed to fulfill this ambition. An exhibition of this works is being staged this summer. Although the sadness of Shu Kataoka was bottomless, there was a need for me to devote all my energy to this poster, having a link with him in my mind.
Wars in distant countries; conflict among ethnic groups; indiscriminate terrorism: in producing this poster I had to clear my mind repeatedly of doubts about my ability to communicate the preciousness of human life in a single poster. The result: an upbeat poster that will either amuse or irritate. If nothing else, I hope it will conjure up images of war and peace for individual viewers.
Hiroshima Appeals Poster Campaign
In 1983, the Japan Graphic Designers Association Inc. (JAGDA) and the Hiroshima International Cultural Foundation announced their collaboration on a project focusing on the theme "Hiroshima's Spirit" and launched a poster campaign with the goal of promoting peace at home and abroad. The first poster, entitled "Burning Butterflies", was created by Yusaku Kamekura, the president of JAGDA at the time. Designers affiliated with JAGDA produce one poster each year.
The posters are sold to the general public and exhibited in a nationwide tour called the "Peace Poster Exhibition". Posters in the series have engaged citizens around the world, displayed in the Atomic Bomb Exhibition preceding to the historic 1985 Geneva Summit, and the exhibition entitled "Hiroshima: A Message for Peace among People" held in Barcelona and Valencia in Spain, and Aosta in Italy in 1997. The 2008 poster was sent to several member cities whose mayors are members of the international group Mayors for Peace. The "Hiroshima Appeals" project, conducted annually from 1983 till 1991, was reinstated in 2005 to commemorate the 60th anniversary of the end of World War II.
Designers: 1983 Yusaku Kamekura; 1984 Kiyoshi Awazu; 1985 Shigeo Fukuda; 1986 Yoshio Hayakawa; 1987 Kazumasa Nagai; 1988 Ikko Tanaka; 1989 Mitsuo Katsui; 1990 Eiko Ishioka; 2005 Masayoshi Nakajo