←
Hiroshima Appeals 2022
2022.7.15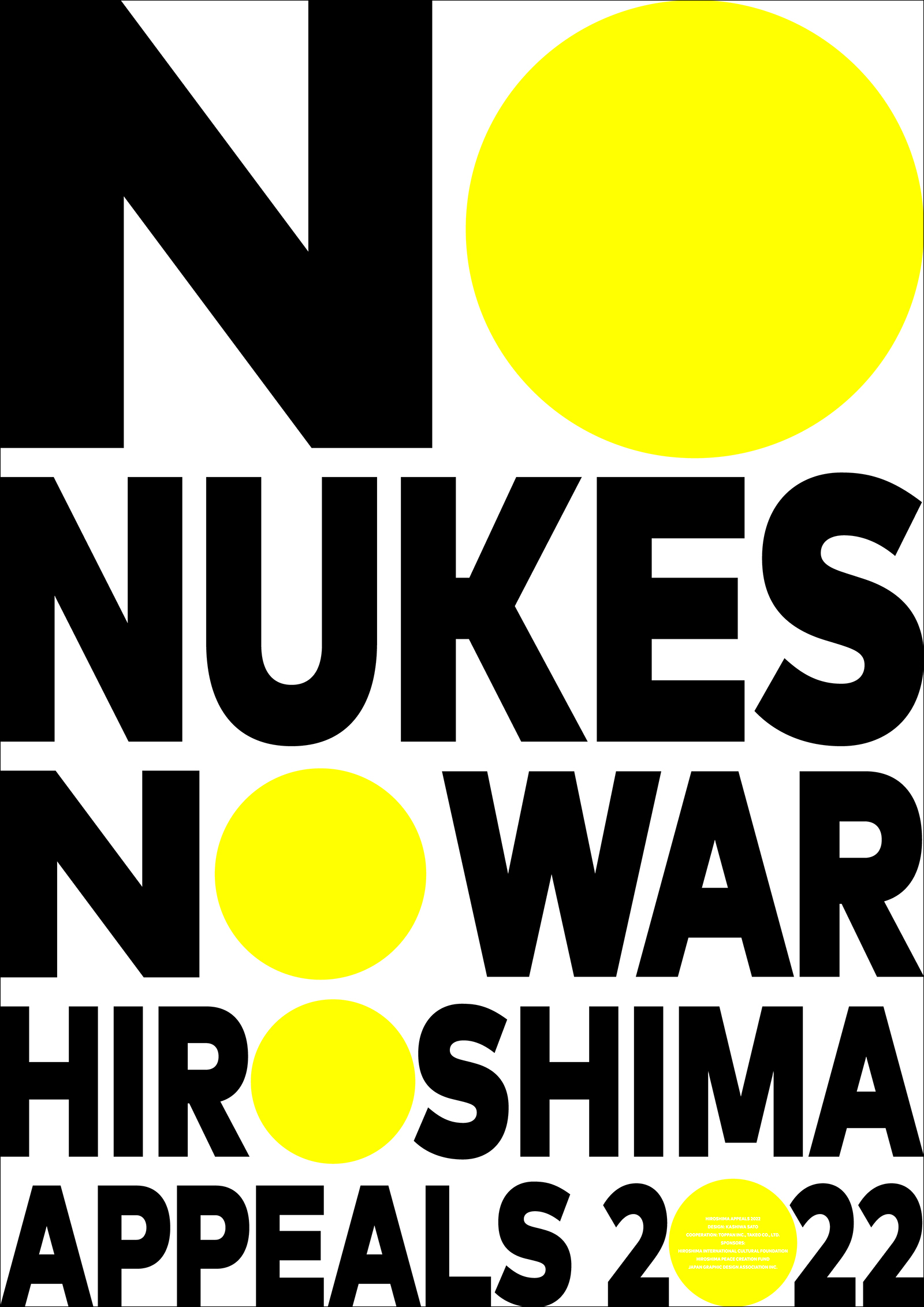 Designer's Comment
February 24, 2022: Russia invades Ukraine, followed by threats to use nuclear weapons. With tensions rising around the world, the Stockholm International Peace Research Institute (SIPRI) in Sweden, announced that the risk of nuclear weapons being used seems higher now than at any time since the height of the Cold War, and although marginal decreases in the overall number of nuclear warheads have been realized until now, nuclear arsenals are expected to grow over the coming decade. We are currently facing the harsh reality of increasing tensions in the global security environment. As the only country to have suffered atomic bombings Japan has a special role to play in sending out a message to the world about the horrors of nuclear weapons. I have a strong sense that now is the time to send out a clear and stark message towards a world free of nuclear weapons. The poster boldly features just typography, with the message "NO NUKES NO WAR HIROSHIMA APPEALS 2022" forming the main visuals in a design featuring dynamic letters and numerals. The letter "O" and the number "0" on this poster have been stylized as yellow circles. The circular shape is described as "wa" in Japanese, which is also the same pronunciation as the Japanese word meaning peace, or harmony. As both of these words are pronounced the same way, the "wa" in this design holds a dual significance in its message to the world. It symbolizes a ray of hope for the future that we can attain peace and overcome these dark and difficult times. It is my dearest wish that each and every one of us will light up the hope in our hearts and come together so that we can spread as many rays of hope as possible, and that the activities of Hiroshima Appeals will make a contribution, however small, to world peace.
Kashiwa Sato
Hiroshima Appeals Poster Campaign
The Hiroshima Appeals is a poster campaign themed on Hiroshima's Spirit that transcends words to widely convey the prayers and wishes of Hiroshima, which experienced the ravages of the first atomic bomb used on mankind. Since 1983, with the first poster Burning Butterflies by Yusaku Kamekura, JAGDA has designated a member designer to produce a poster each year until 1990, and resumed in 2005 to commemorate the 60th anniversary of the end of World War II. The posters are presented to the mayor of Hiroshima City every year, and were presented to member cities of Mayors of Peace in 2005 and 2008. They were also exhibited at Press Centre of G7 Hiroshima Foreign Ministers' Meeting in 2016. In this way the posters have promoted peace at home and abroad.
Sponsors:
Hiroshima International Cultural Foundation
Hiroshima Peace Creation Fund
Japan Graphic Design Association Inc. (JAGDA) Hiroshima Chapter
Cooperation:
Toppan Inc.
Takeo Co., Ltd.
Designers:
1983 Yusaku Kamekura, 1984 Kiyoshi Awazu, 1985 Shigeo Fukuda, 1986 Yoshio Hayakawa, 1987 Kazumasa Nagai, 1988 Ikko Tanaka, 1989 Mitsuo Katsui, 1990 Eiko Ishioka, 2005 Masayoshi Nakajo, 2006 Koichi Sato, 2007 Shin Matsunaga, 2008 Masuteru Aoba, 2009 Katsumi Asaba, 2010 Keisuke Nagatomo, 2011 Susumu Endo, 2012 Yukimasa Okumura, 2013 Kaoru Kasai, 2014 Tsuguya Inoue, 2015 Taku Satoh, 2016 Takahisa Kamijyo, 2017 Kenya Hara, 2018 Kazunari Hattori, 2019 Katsuhiko Shibuya, 2020 Yoshie Watanabe, 2021 Takuya Onuki, 2022 Kashiwa Sato